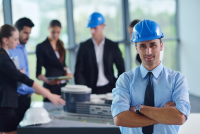 Also know as "turnkey" or "design-build", Single Responsibility is a method whereby one entity is contracted to preform both the architecture/engineering design portion of the project as well as the actual construction. the Single Responsibility approach involves constructing a project that meets your total project needs versus mere piecemeal advisement. You become a vital part of a "design-construct" team that works together on your behalf. "Traditional" contracting approach differs from the Single Responsibility in that you commission an architect and/or engineer to prepare your drawings and specifications.
Once the drawings and specifications are complete, you then hire a General Contractor either by bidding, preference or negotiation. Two separate entities, two separate contracts, two separate costs. Both approaches work! Both approaches have been frequented throughout our economy yet, quite understandably, the Design-Build approach has moved to the head of the construction industry.
Advantages of Single Responsibility
Undivided Responsibility
One contract includes the architecture, engineering and construction of your project. This allows you  to look to one firm that is responsible for maintaining cost, quality, schedule and performance. The result is fixed responsibility, immediate responses and of course, maximum cost control.
Other advantages include the ability to exercise your desired level of control over the design of your project while completely aware of the cost relief and/or implications from each decision. Also, your control of the entire process is strengthened by contracting with a "single" entity that is committed to the success of your project, unconditionally.
Early Knowledge of Costs
Because you are working with a design-build team, the conception of your project can be completed at an early stage. Continuous estimating concurrent with the design development result in overall cost knowledge much sooner than traditionally possible. Also, you have the ability to make decisions early, which is one of the key factors in cost management.
Time & Money Savings
Working with a Design-Build team eliminates redesign time and bidding periods that can cost you valuable time and money. With the design-build system, not only is the design-construction period significantly reduced, ut it also evaluates methods and materials more efficiently and accurately. Cost affecting decisions are continuously used in the design process allowing you to maintain your budget and schedule, resulting in earlier utilization of your completed project.
 Project Responsibility Flow Chart

How is a Single Responsibility Contractor Selected?
Single Responsibility Contracting replaces the process of having to select a design professional as well as a construction contractor. Numerous proposals can be obtained from a variety of different selection approaches.
Direct Selection
You select a Design-Build contractor directly, using such factors as reputation, past performance, qualifications, prior association and/or referral.
Competitive Negotiation
You interview multiple Design-Build contractors and make your selection based on recent comparable costs, fees, scheduling obligations and personnel assigned to your project.
Cost Competition
You provide criteria for your project and request the bidders to prepare both preliminary designs and cost quotations. Each proposal will be different in design and cost. This approach allows you to evaluate each proposal and determine the best design and value for you and your money.
What Type of Contracts Are Used?
Single Responsibility offers yo quite a bit of flexibility. A variety of contract formats have been developed to tailor a design-construct contract that meets the needs of both you and your contractor. Generally, both you and your selected contractor enter into a "multi-phase"agreement with an initial design cost at a nominal fee. When construction costs are determined and both you and your contractor are in agreement, detail and construction phases are then added using one of the contract formats below:
Fixed Fee-Guaranteed Maximum
You and your contractor agree upon a fee for your contractor's profit and overhead and your contractor produces the absolute maximum cost for your project. This type of contract provides for sharing of any savings between you and your contractor and protects you from costs in excess of the maximum cost you originally agreed upon.
Lump Sum
Your contractor provides a stipulated "lump sum" amount for both the design and the construction of your entire project. You pay only the contracted "lump sum" whether there are any increases or decreases in the actual cost of your project.
Cost-Plus
The cost-plus contract is used when accurate cost estimates are difficult to determine. With this type of contract, you and your selected contractor agree upon a "lump sum" for the design portion of your project as well as a profit and overhead fee for your contractor. In some circumstances, the cost-plus agreement can be converted to a "guaranteed maximum" agreement when the cost and scope can be accurately determined.